Hours of Operation
Yes, we are open!
11/23 – Closed
Starting 11/27 hours Monday – Friday 10:00 – 6:00
Saturday 9:00 – 6:00
Sunday 10:00 – 5:00
12/2 – Santa will be at the store from 12:00 – 3:00
12/24 – 10:00 – 2:00
Closed 12/25 – 1/1 for the Holidays and Inventory
Re-Open 1/2 10:00 – 5:00
and hours going forward will be Sunday – Friday 10:00 – 5:00
Saturday 9:00 – 5:00
Spring is Here! Your Denver, Colorado Herb & Vegetable Planting Guide
We've been getting a lot of calls this year from Denver, Colorado locals who are either new to gardening or planning to add a vegetable or herb patch to their home landscape. Everyone's been cooped up and anxious to spend time outside, and there's no better time to get started than early spring.
What's it like to garden in the Denver, CO area?
Given that we're a mountain town, gardeners in the Denver metropolitan area enjoy a surprisingly vibrant environment for growing ornamentals, herbs, and vegetables. We recommend you start a gardening journal and keep a calendar handy to remind you of these important dates and statistics:
Denver's USDA Hardiness Zone is 5b-6a. The United States Department of Agriculture maps out geographical and climate zones according to each's annual minimum winter temperature. Each zone is 10 degrees warmer than the last; there's a five-degree change between 5b and 6a. Seed and plant producers label varieties according to the USDA zones in which they thrive best.
Denver's growing season is 153 days. "Growing season" is the time between a region's typical last spring (May 4) and first fall (October 3) frost. We tell our customers to play it safe and use Mother's Day (the second Sunday in May) as the unofficial last frost date.
As with any area, microclimates within neighborhoods or even in various parts of your property affect soil and air temperatures. Southern or southeastern exposure, allowing for at least six hours of sunlight a day, is ideal. Most garden plants prefer a little shade in the late afternoon when the air and soil are the hottest.
Tip: While our staff are knowledgeable about gardening in Denver, Colorado's surrounding towns and communities including Arvada. Golden, Lowry, Centennial, Parker, and Wheatridge, it never hurts to seek out green thumbs in your own neighborhood—they'll have great advice relevant to your specific microclimate.
Denver, Colorado's growing season is fairly dry, so you'll want to plan an irrigation strategy. Low-pressure drip systems are water-efficient and economical, and when installed correctly (it's an easy DIY project) they're healthier for your plants than overhead watering.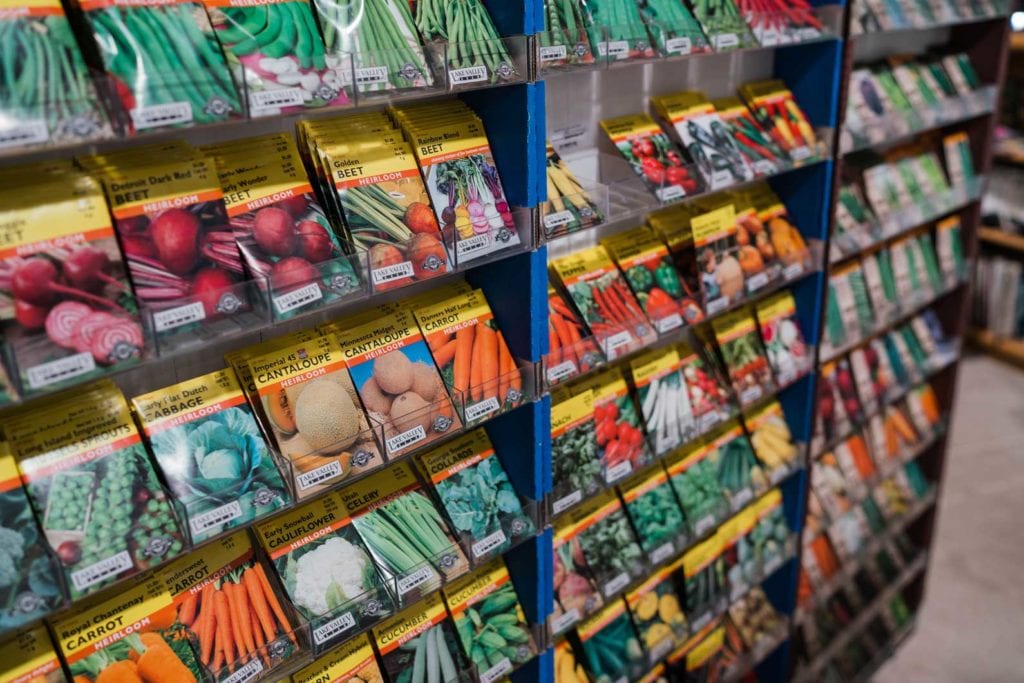 Which herbs and vegetables should you start in early spring? 
You can start many varieties from seed in late winter or early spring if you have a sunny, warm south-facing window, or you can purchase nursery packs of healthy herb and vegetable seedlings to plant as soon as the last frost date has passed. Some species, though, love a little nip in the air, and others rely on the freeze-thaw cycle to hasten germination.
Direct-sow before last frost
You can plant these cool-season crops up to four weeks before the last spring frost date, or again in midsummer for a fall harvest when, for some root types, a bit of frost improves the flavor. Plant them as soon as the soil is thawed and drained enough to weed and cultivate.  Varieties differ within species, so always check your seed packet for specific recommendations. As with our Mother's Day guideline, we advise our garden center customers to plant seeds a week later than the instructions suggest.
Peas
Turnips, turnip greens
Radishes
Onion bulbs (sets)
Seed potatoes
Carrots
Parsnips
Mustard greens
Spinach
Kale
Bok choy
Kohlrabi
Some lettuce varieties
Corn
Coriander
Dill
While most of these varieties should be direct-sown (started outdoors from seed), giving larger seeds a good soak overnight between a few layers of damp paper towel can hasten germination.  Always keep your freshly planted seedbeds consistently moist using the mist setting on your garden hose attachment, and water in the morning so the leaves and stems have time to dry.
When should you transplant seedlings into your garden? 
If you've purchased "starts" from us or grown them indoors, they'll adjust better when your nighttime garden soil temperature is consistently above 65 °F at night. Before you transplant young plants, harden them off by setting them outdoors in filtered sunlight for an hour or two each day, bringing them in again at night. Increase their outdoor time and exposure to direct sunlight by an hour or so each day, and after about 10 days you can begin leaving them out overnight. By day 14, you can transplant them to your garden.
Here are some tips for acclimating your starts to the outdoors:
About a week before transplanting, loosen the soil 12" to 18" deep to remove clods and promote drainage. Add aged compost. Many gardeners use home testing kits as soon as the soil is workable to determine if they need to adjust pH or add nutrients.
Water them in the morning before setting them out.
Their first day outside should be overcast with no more than a light breeze.
Avoid wide fluctuations in outdoor temperatures, and limit their exposure to direct sun on unseasonably warm days.
Never let seedlings become root-bound. Upgrade them to larger containers if they're not ready for transplanting.
Plant tomatoes, melons, and squash so that their first set of leaves rests just above the soil level. Other varieties do best when their crowns (where the roots and stem meet) are just beneath the surface.
How can I protect my young plants against unpredictable Denver, CO weather? 
Colorado's Rocky Mountains are breathtaking, and so is the weather. Heavy rain, hail, or hard freezes damage tender young plants. Bring container plants indoors or under shelter if you can, and protect bedded vegetable and herb seedlings with heat-trapping translucent material.
Floating row covers are plastic or fabric sheets suspended over plants and beds, usually held up by wire arches set into the ground. We've got you (and your garden) covered with hail netting, frost cloth, and translucent poly material.
Cloches, invented by French urban gardeners, are bell-shaped, single-plant "mini-greenhouses" used to protect plants from frost or precipitation. You can purchase manufactured cloches, or make your own by cutting the bottom from a milk jug and fitting the top firmly over the plant. Leave the top off in all but the coldest freezes.
Weather-proofing year-round
Mulch around the base of young plants, leaving an inch of space around the stem. Mulch will help stabilize soil temperatures and humidity around the plant.
Moist soil helps plants survive freezes, heavy frost, and exceptionally hot days. It protects the roots, and hydrated plants handle damage much better than do wilted, intermittently-watered vegetables and herbs.
Windbreaks prevent breakage, protect pollinating insects, and keep blossoms intact.
We'll help you get your spring garden underway with our herb and vegetable planting guide!
Didn't get your cool-season garden started in time? No worries! You have another chance for a fall harvest, and we carry plenty of starts for spring and summer transplanting.
Country Fair Garden Center isn't just a trusted nursery and supply retailer—we have more than five decades' experience helping gardeners succeed. Contact us if you'd like tips and ideas for your vegetable and herb garden or recommendations for garden tools and plant varieties.
Our Colorado History Makes the Difference