Hours of Operation
Yes, we are open!
Starting July 5th, we are open:
Sunday 10:00am – 5:00pm
Monday – Saturday 9:00am – 5:00pm
Having been produced on a mass scale since 1957, there are now more plastic yard flamingos in the world than real ones in the wild.
Unique Outdoor Garden Decor to Add Personality to Your Colorado Yard or Garden
Complete your unique Denver garden with outdoor decor that reflects your style! The outstanding selection of outdoor garden decor at Country Fair Garden Center is where you'll find just what you need to call your garden home.
Functional and Fashionable Garden Decor for Denver, Colorado Homes
Putting your stamp of style on your Denver landscape is a fun way to add interest to your garden or yard and impress visitors with variety and interest. From elegant to quirky, contemporary to playful, our outdoor décor products offer many options for adding exciting elements to your outdoor environment!
Country Fair Garden Center's extensive selection of outdoor décor is hand-selected for our Denver customers. We offer a wide array of options, colors, materials, and styles, plus knowledgeable advice on elements that will help tie together the different areas in your yard.
Also, our Denver garden center location sells pottery, spinners, garden stakes, stepping stones, trellises, wall art, and more to help you express your Colorado style in your landscape!
So Much More Than Garden Decor
Visit Country Fair Garden Center for outdoor garden decor and you'll soon realize we offer so much more for your garden and your home!
We offer everything from pottery and decor to fairy garden supplies and garden-themed gifts. Whatever gardening supplies you're looking for, you'll find it in our garden shop for a reasonable price and of outstanding quality.
Convenient Location, Affordable Prices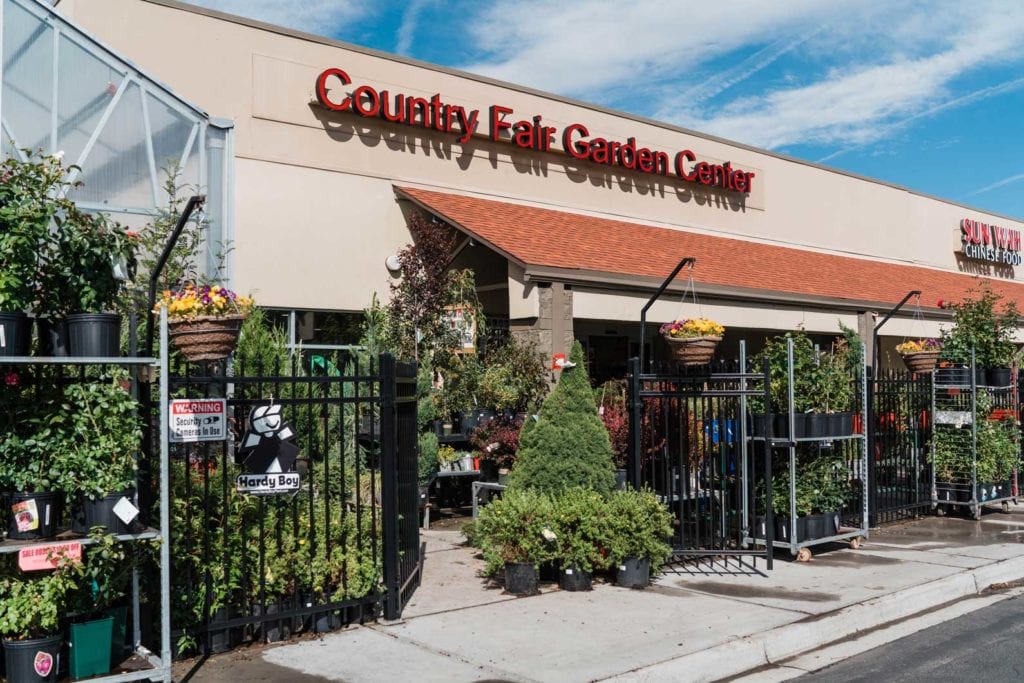 For decades, Country Fair Garden Center has been serving the Denver area with everything to make Colorado gardens and homes unique and beautiful. We are a family-owned and family-operated business that has a passion for gardening and we want to share our knowledge with our neighbors.
We are Denver's trusted garden center and nursery with expert gardeners on staff who provide amazing customer service and expert gardening advice with a passion for helping you understand your garden and our products. Our locations offer a colorful assortment of flowering annuals, perennials, organic herbs & vegetables, trees, shrubs, indoor plants, soil, fertilizer, pottery, gardening tools, home decor, unique gifts, local Colorado goods and so much more!
Visit our Denver garden shop in the South Lowry Square Shopping Center, on the southwest corner of Leetsdale and Quebec at: 7150 Leetsdale Dr #415, Denver, CO 80224 or call us at (303) 757-4949.
Friendly Advice for Flourishing Gardens
At Country Fair Garden Center in Denver, we have more than just hardy plants and beautiful outdoor garden decor; we have the friendly, experienced team that has hundreds of years of combined experience helping Colorado gardeners create beautiful, thriving spaces. No matter the size of your space or your level of gardening experience, we are here to provide you with access to expert advice and thoughtful ideas to make your space the garden of your dreams.
Not only will you find exceptional outdoor decor at a reasonable price, but our team is also committed to providing excellent customer service. We provide hardy plants that are grown in Colorado, and we have exactly what you want for a price you can afford. No matter your taste or what you're looking for, we can offer gardening solutions, suggest ideas to help you create the beautiful garden of your dreams, and provide friendly customer service for all your gardening needs.
We are here to help make your Denver garden and home amazing!
The Gerace Family: Green Industry Leaders
Our family has been creating healthy gardens since 1948, when Alex and Esther Gerace began growing food to feed their children and ultimately established Welby Gardens. From that time, the Gerace family expanded over the decades and developed some of the largest greenhouse growing areas in Colorado that became well known and respected in the greater green industry. In fact, our family's brand Hardy Boy Plant (exclusively grown at Welby Gardens) is recognized nationally for innovative growing methods and producing plants that thrive all over the country.
With this amount of experience, we know plants, seeds, and information about all types of gardening. With Country Fair Garden Center, our aim as a retail store is to serve our community—to provide a garden shop that sells high-quality, beautiful products to our neighbors. If you're looking to improve your outdoor space, visit one of our two family owned garden shop locations today!
Our Colorado History Makes the Difference