Hours of Operation
Yes, we are open!
Starting July 5th, we are open:
Sunday 10:00am – 5:00pm
Monday – Saturday 9:00am – 5:00pm
We're fanatical about our local communities! One way we support others is through our two Country Fair Garden Centers, we donate a lot of seeds and seed supplies to teachers for class projects. Does your community, gardening group, or class need help with gardening supplies? We encourage you to pop into one of our locations and fill out a donation request form and we'll get back to you soon!
Helping Denver Gardeners Blossom
We help Colorado gardeners create the healthiest, most productive, and most beautiful landscapes through our commitment to plant quality, product innovation, and customer service. At Country Fair Garden Center, we strive to be different than any other grower or garden center in the greater Denver metro area!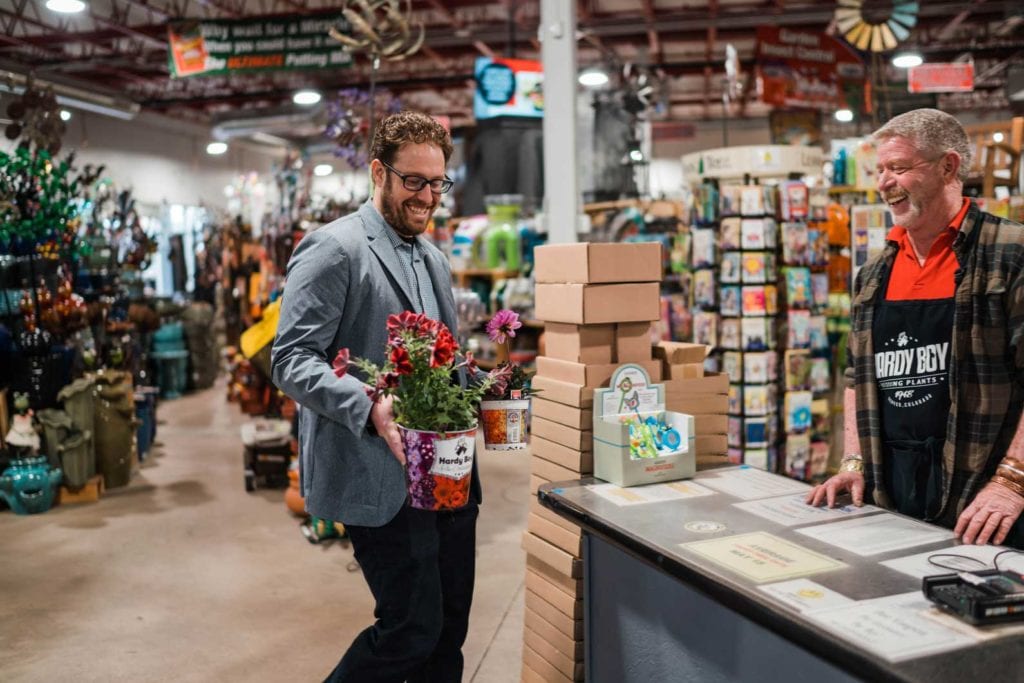 Gorgeous Gardens From the Hardiest Plants
Simply put, Country Fair Garden Center offers the best plants and flowers, garden supplies and tools, and garden accessories for Colorado gardens. Our family has been growing plants in Colorado, for our unique climate, soil, and arid conditions, for more than 70 years. We're dedicated to bringing this experience and passion for gardening to our Country Fair Garden Center customers in Denver!
We proudly sell plants from our family partner, Hardy Boy Plants. Through Colorado droughts, extreme temperatures, wind, snow, and sunshine, these plants not only live but thrive in Colorado's diverse climate. In fact, Hardy Boy Plants are custom grown to cope with both Colorado's unique growing conditions and other difficult environments, providing dazzling displays of color and vigorous growth no matter where your garden grows.
Customers visit Country Fair Garden Center because we understand that the Colorado climate can be tough on plants, and we deliver gardeners just what they need. Our plants are hardier, more beautiful, and ready to thrive in any Colorado garden. Plus we offer the garden accessories and supplies that will help every gardener succeed! Our experienced team can work with you to help you find exactly what you need to create the garden of your dreams.
Helping You Create Successful Gardens Year After Year
Unlike big box stores, Country Fair Garden Center focuses on plant quality, plus exceptional and unique customer service, to create the best gardening experiences possible. We're continually looking for plant varieties that perform in a wide range of environments.
By sharing knowledge on water usage, greenhouse growing, soil composition, and much more, we provide customers with high-quality plants that grow gardening confidence and, in turn, make for growing outstanding gardens.
Knowledge and Experience for Denver Gardeners
At Country Fair Garden Center, our team of family members and expert gardening staff make up a unique blend of customer service you can't find anywhere else. By providing our customers with time-tested advice, we are proud to help our gardening customers grow along with their plants!
Plus, the expert team at Country Fair Garden Center are gardeners just like you! We pride ourselves in offering not only the very best plants, flowers, vegetables, shrubs, trees, and more, but also in helping customers find unique gifts, garden décor, and garden accessories that add character and personality to every home.
Just like the 2018 Head Grower of the Year, Nick Gerace from our own Welby Gardens, every member of the Country Fair Garden Center team reflects our commitment to excellence and to our customers.
We welcome you to visit us to learn more about how Country Fair Garden Center is different! Please visit our Denver location to see, firsthand, how we can help you make your Colorado garden grow!
Start Planning Your Garden Today
Give us a call or drop by! We're ready to assist in any way we can, whether you need help selecting from garden accessories, deciding which fertilizer is right for your environment, or if you need help starting a new vegetable garden. Contact us today!
Want to get an idea of what could fit best in your garden? We have exactly what you need to create your dream outdoor living space. Whether you're choosing the perfect annuals or perennials, or searching for unique garden accessories, we've got you covered.
Use the links below to browse our products and start planning your garden today!
We're available to help you with ideas, advice, and whatever you need to create the garden of your dreams!
Our Colorado History Makes the Difference