Hours of Operation
Yes, we are open!
11/23 – Closed
Starting 11/27 hours Monday – Friday 10:00 – 6:00
Saturday 9:00 – 6:00
Sunday 10:00 – 5:00
12/2 – Santa will be at the store from 12:00 – 3:00
12/24 – 10:00 – 2:00
Closed 12/25 – 1/1 for the Holidays and Inventory
Re-Open 1/2 10:00 – 5:00
and hours going forward will be Sunday – Friday 10:00 – 5:00
Saturday 9:00 – 5:00
The Gerace family's garden legacy began in 1948, when Alex Gerace and his wife Esther planted vegetables to feed their family and tended their fields with a horse-drawn plow.
Premier Garden Supplies and Expert Advice for Denver Gardeners
Brighten your home with the most beautiful and lively selection of garden decor, locally grown plants and flowers, gardening supplies, and so much more! At our fully stocked garden shop in Denver, CO, you can expand your outdoor living space and create a landscape of character and personality with our wide variety of gardening products ideal for your Colorado lawn and garden.
Gardening is so much more than just picking out plants and flowers -- it's about creating a little oasis in your backyard with perennials and garden statues, a relaxing getaway on your front patio with a water fountain, or enhancing your home's value with an added raised bed veggie garden. If you're ready to take your gardening to the next level, come into our Denver garden shop where we have everything you need, whether you're an experienced or beginner gardener.
The Best Garden Supplies for Your Colorado Garden
Country Fair Garden Center has been helping Denver area homeowners select, plant, care for, and enjoy the finest plants, flowers, trees, and shrubs available for years! We have the trusted and tried experience to help you create the outdoor space of your dreams.
Looking for the perfect lawn ornament? Pots and potting soil? Garden gifts and seasonal decor? We've got you covered! Our garden shop's selection includes a wide variety of lawn and garden products, and our experienced team can help you think of everything you need to make your project perfect. You can't go wrong with our garden shop selection and especially with our expert service.
With almost endless variety available at Country Fair Garden Center, you'll find exactly what you need to suit your Denver area garden.
Our garden shop has products for every type of gardening, gifts for garden lovers, supplies for beginning a new project, decor items that combine form and function, and so much more.
Plus, our team is here to help you with advice and creative ideas—making your job as a gardener that much easier!
View Our Selection of Garden Products
Want to plan out what could fit best in your garden? We have all the products you need to create an amazing outdoor living space, an indoor container garden, or DIY project. Whether you need lawn ornaments, Colorado garden gifts, potting soil, or seasonal garden decor, you can count on us for a great selection and friendly service.
When it comes to your Denver, Colorado home and garden—we've got what you need!
Garden Supplies and Expert Advice From Your Colorado Garden Experts
With decades of growing, caring for and developing plants for Colorado, the family-owned and operated Country Fair Garden Center not only has what you need—we have who you need. Our garden experts know plants and know our unique area. We can provide specific advice for your project and your needs, no matter how big or small.
Your garden should be a unique, dynamic place. In addition to plants that are grown in Colorado, our extensive garden shops also sell everything else you need to make your outdoor area exactly the way you want it.
At Country Fair Garden Center in Denver, you can find pottery, plant containers, fountains, assorted décor, holiday and seasonal decorations, fairy garden supplies, trellises, edging, and more!
Whether you're looking for shade trees or flowering annuals, water fountains or Christmas trees, you'll find it in our garden shop for a reasonable price, and you can depend on outstanding quality.
A small garden doesn't mean you can't have the garden you want. No matter the space you're working with, come on in to Country Fair Garden Center to get some great ideas from our friendly garden experts. You'll get exactly what you want at a price you can afford! Our family has hundreds of years of combined experience in helping our Denver, CO area neighbors create the outdoor spaces of their dreams!
The Experience of Creating Colorado Gardens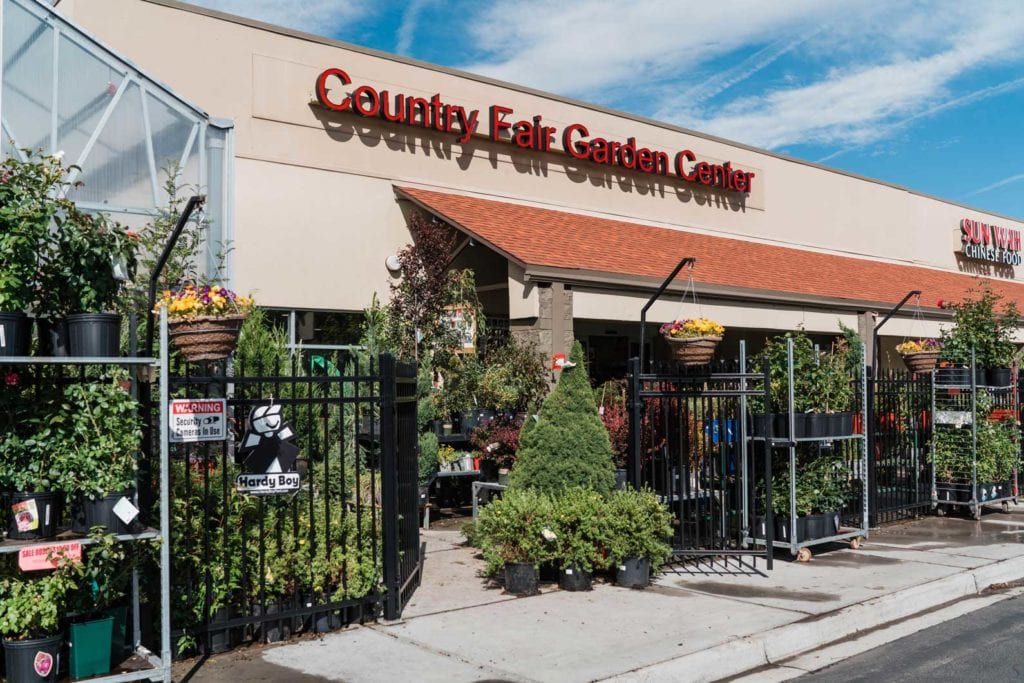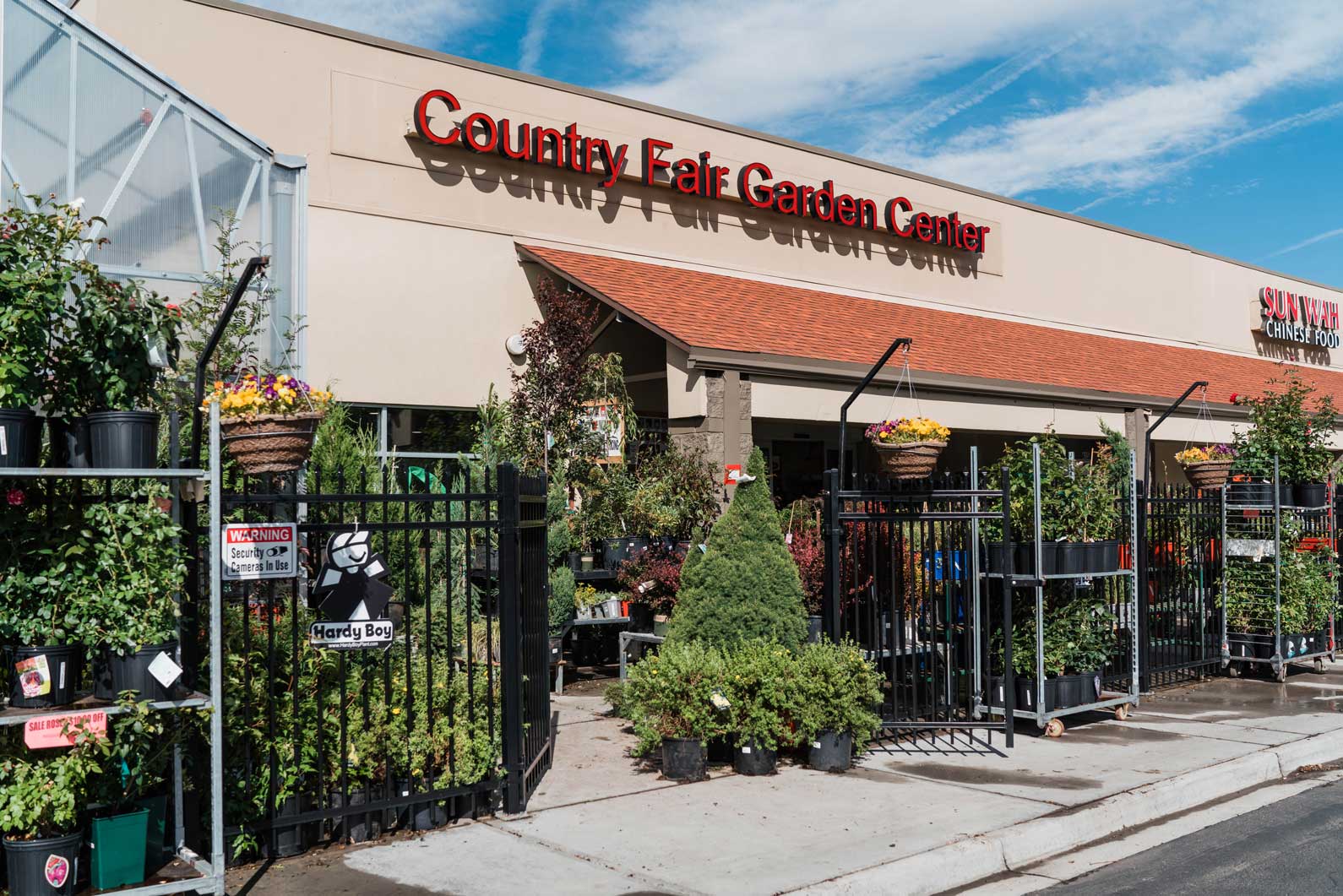 For years, Country Fair Garden Center has been serving the Denver area with everything to make Colorado gardens and homes unique and beautiful. We are a family-owned and family-operated business that's been providing trusted customer service for decades. Our extensive garden shop offers everything you need for your urban garden!
Visit our Denver garden shop in the South Lowry Square Shopping Center, on the southwest corner of Leetsdale and Quebec at: 7150 Leetsdale Dr #415, Denver, CO 80224 or call us at (303) 757-4949.
Our Colorado History Makes the Difference