Hours of Operation
Yes, we are open!
Starting July 5th, we are open:
Sunday 10:00am – 5:00pm
Monday – Saturday 9:00am – 5:00pm
Esther Gerace was fond of flowers. She inspired the addition of ornamental plants to the business, and the family took its first geraniums to market in 1955.
Serving Colorado With Quality and Service Since 1948
At Country Fair Garden Center, we offer the highest-quality plants and flowers available for your Colorado garden. Our plants are grown right here in Colorado to ensure everything is hardy, healthy, and ready to make your home garden look beautiful. We know what it takes to make your plants and flowers survive and thrive in this rugged environment!
Beautiful, Long-Lasting Plants & Flowers
The extensive selection of plants and flowers you'll find at Country Fair Garden Center are grown to succeed in your Colorado landscape. Our team of experts understand what plants will work best in your garden—in fact, we only offer the best plant brands, including Hardy Boy Plants, grown exclusively at Welby Gardens!
From annuals to perennials, roses to houseplants, you really can't beat the selection of plants and flowers available at our garden center and nursery. You will find exactly what you need and want at our Country Fair Garden Center Denver location.
Our extensive, beautiful selection of plants and flowers are only matched by our large team of gardening experts here to help you find what's just right for your home. Our friendly team has the expertise to provide detailed advice and help dream up big ideas for your outdoor space or DIY project, no matter the size or scope.
View Our Selection of Colorado-Grown Plants and Flowers
Plan out exactly what could fit best in your garden! We have everything you need to create your dream outdoor living space. Browse the plants and flowers we offer by using the links below, and start planning your garden today!
Award-Winning Plants & Flowers
Country Fair Garden Center is proud to offer Hardy Boy Plants; this industry-leading brand is grown locally to ensure customers receive the highest-quality plants, which are hardy enough that they're meant for Denver area gardens.
For decades, gardening specialists and enthusiasts from around the country have trusted our family partners to help them grow award-winning flowers. This includes Colorado State University's Annual Flower Trial Garden, which simulates the Colorado environment and other challenging growing conditions to determine plants' health and ensure robust performance for gardeners.
As a result, Country Fair Garden Center is always delighted to share these proven plant varieties with our customers!
Everything for Your Denver Garden
When you visit Country Fair Garden Center for plants and flowers, you'll soon realize we offer so much more for your garden and your home! We offer everything from pottery and décor to fairy gardens and gifts. Whatever you're looking for, you'll find it in our garden shop for a reasonable price and of outstanding quality. We invite you to browse our vast gardening selection using the links below or drop into our south Denver location at your convenience:
Convenient Location, Affordable Prices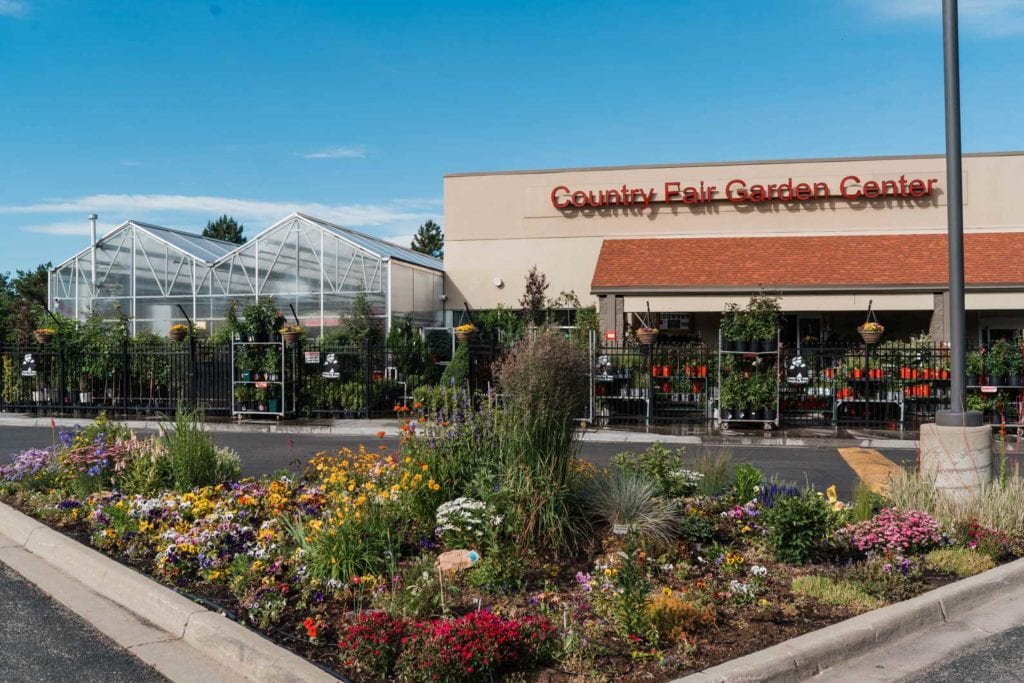 Since 1948, the Gerace family, which owns and operates Country Fair Garden Center, has been serving the Denver area with the right selection of local plants and flowers to make Colorado gardens and homes unique and beautiful. We are a family-owned and operated business that loves everything about gardening. Our nursery and extensive garden shop offers everything you need for your urban garden!
Find our Denver garden shop in the South Lowry Square Shopping Center, on the southwest corner of Leetsdale and Quebec at: 7150 Leetsdale Dr #415, Denver, CO 80224 or call us at (303) 757-4949.
How Does Your Garden Grow? With Expert Advice from Country Fair Team Members
At Country Fair Garden Center in Denver, we're more than a plant shop. Our experienced, friendly staff knows everything there is to know about gardening—which means you have access to expert advice and thoughtful ideas to make every green space something wonderful. No matter how large or small your space is, our team has years of combined experience helping our neighbors in Denver create the yards and gardens of their dreams!
Get exactly what you want for a price you can afford from Colorado's leader in greenhouse-grown, hardy plants. Whether you're a beginner or experienced gardener, we can offer gardening solutions, suggest ideas to help your garden thrive, and provide friendly customer service for all your gardening needs.
We are here to help make your Denver garden and home amazing!
Our Colorado History Makes the Difference