Hours of Operation
Yes, we are open!
11/23 – Closed
Starting 11/27 hours Monday – Friday 10:00 – 6:00
Saturday 9:00 – 6:00
Sunday 10:00 – 5:00
12/2 – Santa will be at the store from 12:00 – 3:00
12/24 – 10:00 – 2:00
Closed 12/25 – 1/1 for the Holidays and Inventory
Re-Open 1/2 10:00 – 5:00
and hours going forward will be Sunday – Friday 10:00 – 5:00
Saturday 9:00 – 5:00
The most popular Christmas trees are Scotch Pine, Douglas Fir, Noble Fir, Fraser Fir, Balsam Fir, Virginia Pine and White Pine.
Bringing Our Denver Neighbors a Wide Selection of Beautiful, Live Christmas Trees
Christmas in Colorado is something extra special! When our area is snowy, merry, and bright, Country Fair Garden Center in Denver, CO, stocks up on everything you need to decorate your home and celebrate the holidays—including live Christmas trees!
Fresh Colorado Christmas Trees for Your Holiday Festivities
An evergreen holiday forest awaits you and your family this holiday season with our large variety of live Christmas trees. They are all specially selected to provide you with a fresh Christmas tree that is beautifully shaped, in excellent health, and offering a delightful fragrance for your Denver home.
Every year, Country Fair Garden Center offers lush Christmas trees for sale to kick off the holiday season and help you bring a little bit of natural, winter wonderland into your home. Our live Christmas trees are fresh and healthy when you pick them up, guaranteeing a long-lasting Christmas centerpiece for you and your family to gather and make memories around.
While you're seeking the best live Christmas tree for your home this holiday season, at our garden shop in Denver, CO, you can also choose Christmas ornaments, wreaths, garlands, and holiday décor for your home and garden. We offer everything you need for the holiday season!
Fresh Christmas Wreaths are Here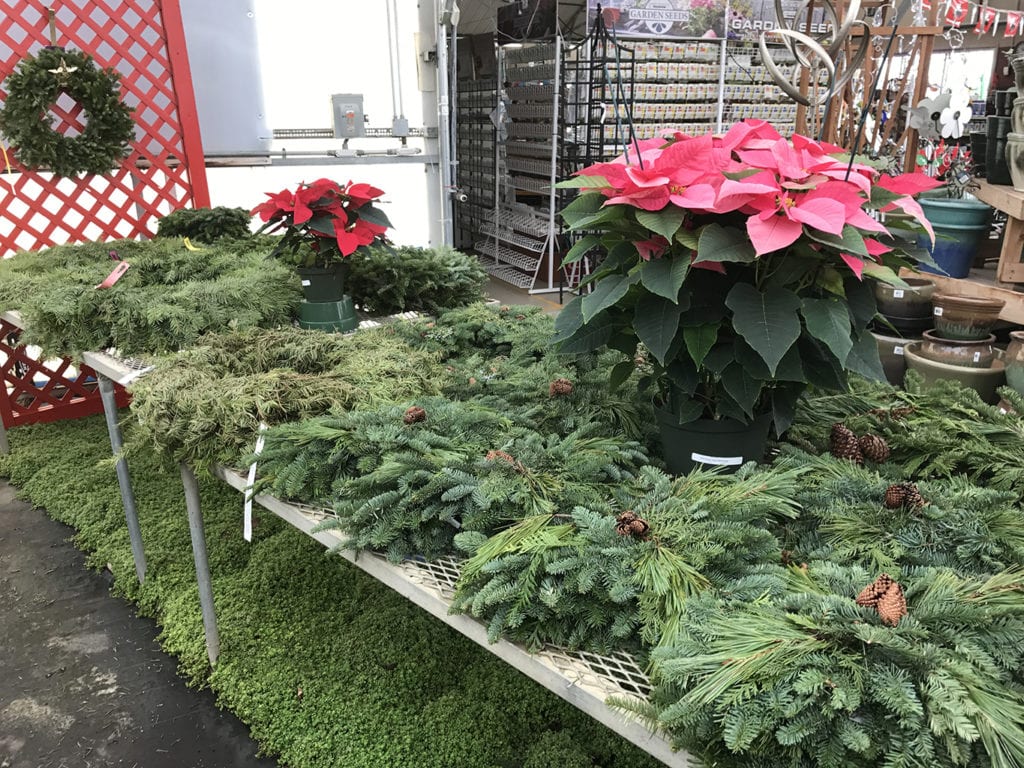 A classic Christmas tradition, the evergreen wreath is a sure sign that the holidays have arrived! Fresh Christmas wreaths offer welcoming fragrance and beauty to everyone entering your Denver home.
We offer a huge selection of seasonal fresh Christmas wreaths. This extra-special symbol of the holiday season can be decorated with ribbons, bells, pinecones or in any other way to reflect your home and your family's holiday traditions. Christmas wreaths also make a wonderfully creative holiday or hostess gift!
Visit our garden center in Denver for everything you need for the holidays this year. In addition to our Christmas wreaths, you'll find Christmas garlands, Christmas trees, centerpieces, door swags, holiday ornaments, garden décor, gifts, and much more for your home and garden!
Fragrant, Fresh Christmas Garland
Traditional evergreens are a staple for any Colorado Christmas. With a fragrance that takes you to the Rocky Mountains, a variety of different types of evergreens, and so many creative options to decorate and display, Christmas garland is an easy way to celebrate the holiday season.
The Christmas garland at Country Fair Garden Center in Denver, CO, provides a beautiful addition to your seasonal décor. Our holiday garland is available in different lengths, and we sell both simple greenery and garlands with additional decorations. We provide the freshest garland available for long-lasting enjoyment throughout the season.
Our expert gardening team can help advise you about the best Christmas garland options for your home and also offer ideas on new ways to use garland and greenery both inside the home and to accent your Denver area home's entrance. Shop for Christmas trees, Christmas wreaths, holiday décor, tree decorations, home and holiday décor, gifts, and more!
The Friendly Team That Helps Your Garden Grow
With hundreds of years of combined experience within the family business, the team at Country Fair Garden Center in Denver has what it takes to provide you with expert advice and thoughtful ideas for all your gardening, DIY, and holiday decorating needs. With a large plant, flower, and gift selection to choose from, we're happy to recommend what's right for your specific area and your specific needs. We've been helping Colorado gardeners for decades, and we'd love to help you bring an extra special dose of Christmas cheer to your home this season.
Our Colorado History Makes the Difference