Hours of Operation
Yes, we are open!
11/23 – Closed
Starting 11/27 hours Monday – Friday 10:00 – 6:00
Saturday 9:00 – 6:00
Sunday 10:00 – 5:00
12/2 – Santa will be at the store from 12:00 – 3:00
12/24 – 10:00 – 2:00
Closed 12/25 – 1/1 for the Holidays and Inventory
Re-Open 1/2 10:00 – 5:00
and hours going forward will be Sunday – Friday 10:00 – 5:00
Saturday 9:00 – 5:00
Did you know that shrubs still need watering in the winter time? While the watering needs are less in the colder months, all shrubs need winter watering to ensure they stay healthy and vibrant throughout the year.
Denver, Colorado enjoys 300 sunny days a year, making it home to many popular tree species. While a drive over Kebler Pass or a visit to Rocky Mountain National Park are popular ways for residents to view the fall foliage, there are many reasons you may want to grow trees on your Denver property as well. When choosing trees to plant on your property, it's important to know which trees thrive in the local climate and the care they will require. At Country Fair Garden Center, we carry a wide variety of different types of trees. Our experienced staff is always happy to help you find the ones that will make your Denver property complete.
How Trees Benefit Your Denver, Colorado Property
There are many reasons you may want to plant various trees on your property. Some provide shade while others provide beauty and all trees improve the value of your residential or commercial property. Trees are a beautiful feature on your property that can save you money in more ways than one. Here are a few benefits provided by trees.
Lower utility bills: Large shade trees can shade your home and actually make it cooler, saving you money on your cooling bill. Add a row of privacy trees to block blustery winds and your heating bill will drop as well.
Help the environment: Trees provide oxygen and absorb carbon dioxide. They also trap other gases, having a cleaning effect on the air and possibly lowering instances of respiratory disease.
Avoid erosion: Many trees have long-reaching roots that will help soil from eroding over time due to weather.
Create privacy: When planted properly, trees can provide a more effective privacy barrier than a fence. Some trees grow 50 feet or more, and their wide girth can block noise as well.
Add beauty: From delicate blooming ornamentals to lush shade trees and stately evergreens, trees add beauty to any landscape.
Create additional living space: Colorado weather is prime for time spent outdoors, but with 300 sunny days a year, shade is always welcome. Strategically placed shade trees can add to your outdoor space without the cost of expensive awnings or other hardscapes.
Most Popular Trees in Our Denver, Colorado Tree Nursery
The tree nursery at Country Fair Garden Center is stocked with a wide selection of different tree species that thrive in the Denver area. Whether you know exactly what you're looking for or need some inspiration, our experienced gardening team can help you find the trees that will improve your unique property. These are a few of the most popular types of trees in our Denver, CO tree nursery.
Fruit Trees
Fruit trees can benefit your property in many ways. They provide beautiful blooms in the spring and bountiful fruit in the summer. Apples are a favorite all across Colorado, including the front range. Some of the most popular varieties that thrive in Colorado's climate include Red and Yellow Delicious, Gala, Honeydew, and Granny Smith. Peach, Plum, and Cherry trees are also popular in the area but may require a little extra care.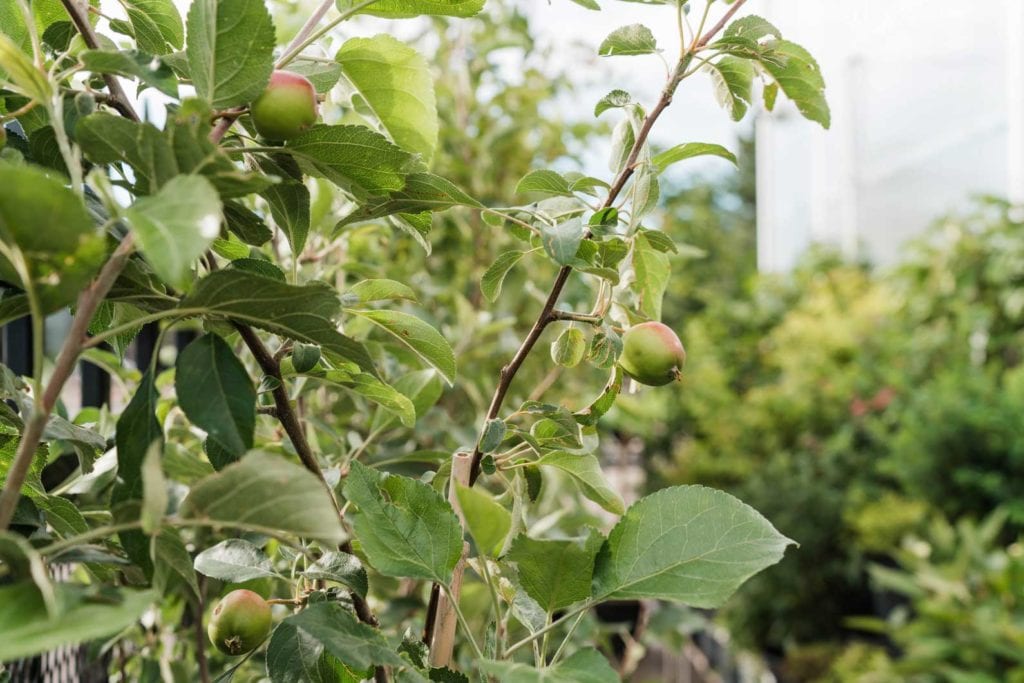 Flowering and Ornamental Trees
Flowering trees are some of the most popular trees we sell due to their extravagant color in spring and summer. Some ornamental trees boast colorful leaves as a year-round attraction. Popular choices include Red Bud, Golden Raintree, Amur Maple, Japanese Tree Lilac, and Crabapple.
Shade and Privacy Trees
Sometimes, nothing brings neighbors together like a little privacy. There are several species of trees that can provide privacy from a nearby home or road. When grown closely together these trees can also provide a barrier from the noise of roadside traffic or keep drafty winds from reaching your home.
In the sweltering summer months, shade trees can provide relief in your outdoor space and even reduce your cooling bill by shading your home. If you have the space, several varieties of large trees thrive in the Denver, CO area. Some all-time favorites include the Kentucky Coffeetree, Norway and Sugar Maples, and Honey Locust. If you're looking for smaller varieties, the Japanese Lilac or Serviceberry might be a perfect choice.
Evergreen and Deciduous Trees
Some trees can provide green foliage throughout the year. While they may not fit in every space, large evergreens add stately beauty to any property with wide open spaces. Some of the more popular varieties include the Colorado Blue Spruce, Ponderosa Pine, and Southwestern White Pine. If you love the appeal of evergreens but your space is more limited, the Rocky Mountain Juniper or Bristlecone Pine might be just the right size.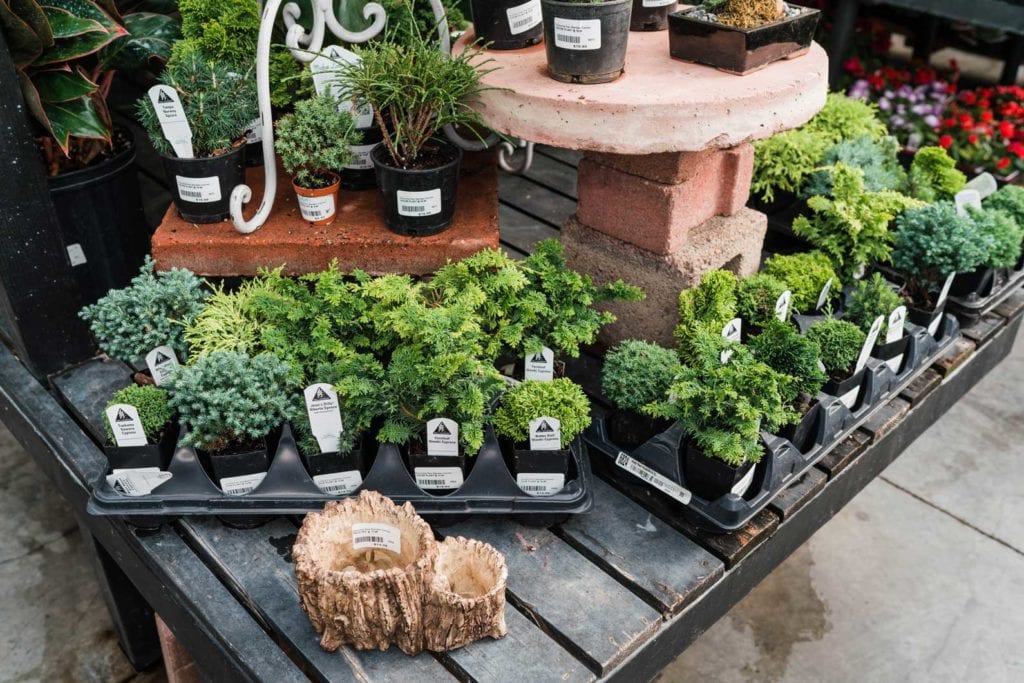 Christmas Trees
Every year, we offer live Christmas trees for sale in our Denver garden center. Kick off your Christmas season with a bit of natural winter wonderland with one of our premium lush green Christmas trees. Our live trees are fresh and healthy to remain beautiful with proper care. To compliment your tree, we also offer natural wreaths, garlands, and centerpieces.
Visit Country Fair Garden Center's Tree Nursery for Premium Trees and Excellent Service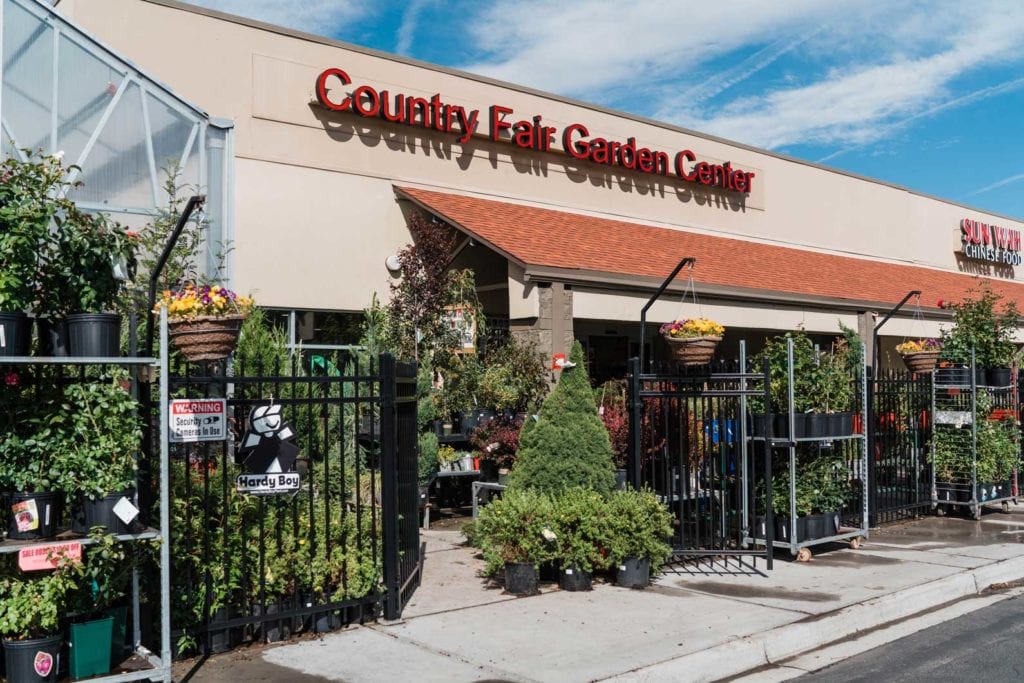 Country Fair Garden Center is a family business that began growing plants in Denver's difficult climate over 70 years ago. We help Colorado gardeners create the most productive, healthy, and beautiful landscapes by providing quality plants combined with advice earned from years of experience. We proudly sell plants from our family partner Hardy Boy Plants which are grown to cope with the unique growing conditions of Colorado and other difficult environments. This means our plants are beautiful, hardy, and ready to grow in any Colorado garden.
At Country Fair Garden Center, family comes first, and we treat our customers like family. Our passion for gardening is contagious and we love sharing our knowledge with our customers. Our expert gardening staff  and tree nursery experts provide the very best plants and trees along with advice that will help new gardeners grow along with their plants. For more information about local Denver plants, trees and shrubs, contact Country Fair Garden Center and visit our Denver location today.
Our Colorado History Makes the Difference