Hours of Operation
Yes, we are open!
11/23 – Closed
Starting 11/27 hours Monday – Friday 10:00 – 6:00
Saturday 9:00 – 6:00
Sunday 10:00 – 5:00
12/2 – Santa will be at the store from 12:00 – 3:00
12/24 – 10:00 – 2:00
Closed 12/25 – 1/1 for the Holidays and Inventory
Re-Open 1/2 10:00 – 5:00
and hours going forward will be Sunday – Friday 10:00 – 5:00
Saturday 9:00 – 5:00
Planting a garden? Our specialists have green thumb experience and advice on recommending plants, techniques, supplies, and giving how-tos to get your garden to thrive. Just ask when you're in the garden center!
Everything You Need for Your Colorado Garden
It may feel confusing deciding where to start with gardening in Colorado due to the arid climate. Or maybe you've been gardening for years but haven't quite seen the results you'd like to see from all your efforts. In either case, the experienced team at Country Fair Garden Center can help you grow one of the most beautiful gardens in Denver with best-in-the-business plants and garden supplies that create the healthiest growing conditions.
Garden Supplies for Great Gardening
As part of the process of growing an outstanding garden, it's best to start by creating the ideal living conditions for your plants, trees, shrubs, vegetables, and herbs. Soil provides the nutrients, minerals, organic matter, and other organisms that keep your plants in balance so they can grow and thrive. In Denver, with our sandy soils, rocks, and heavy clay, your plants need some extra care.
Country Fair Garden Center has the experience and the knowledge for growing Colorado plants, including the Hardy Boy Plants brand grown exclusively by Welby Gardens, which is owned and operated by the Gerace family -- just like Country Fair Garden Center. We're here to help you not only choose the right plants for your garden, but also to get your soil in the best condition, too, by using high-quality soils, fertilizers, compost, and amendments that deliver the right nutritional balance.
Our extensive selection of garden supplies offers top-brand products that are proven to enhance your garden soil. Many of the products we carry are formulated here in Colorado and for our soil. We have everything you'll need including:
Denver's Best Garden Supplies and So Much More
Visit Country Fair Garden Center for garden supplies and you'll soon realize we offer so much more for your garden and your home! With our long history in the green industry, we know about all the tools, supplies, and equipment that's necessary to make every kind of garden there is.
With a wide selection of pottery, seeds, soil, fertilizer and plants, a legacy of offering superior gardening products, and a staff that's dedicated to helping our neighbors' gardens thrive, we have everything you need to start or maintain your Colorado garden.
Whether you need vegetable seeds or Christmas trees, a garden bed kit or a garden gnome, we have what you need to make your outdoor space or DIY project exactly what you want it to be. Visit our Denver garden center location to explore some of our many offerings, including:
When it comes to your Denver home and garden—we've got what you need!
The Experience of Creating Colorado Gardens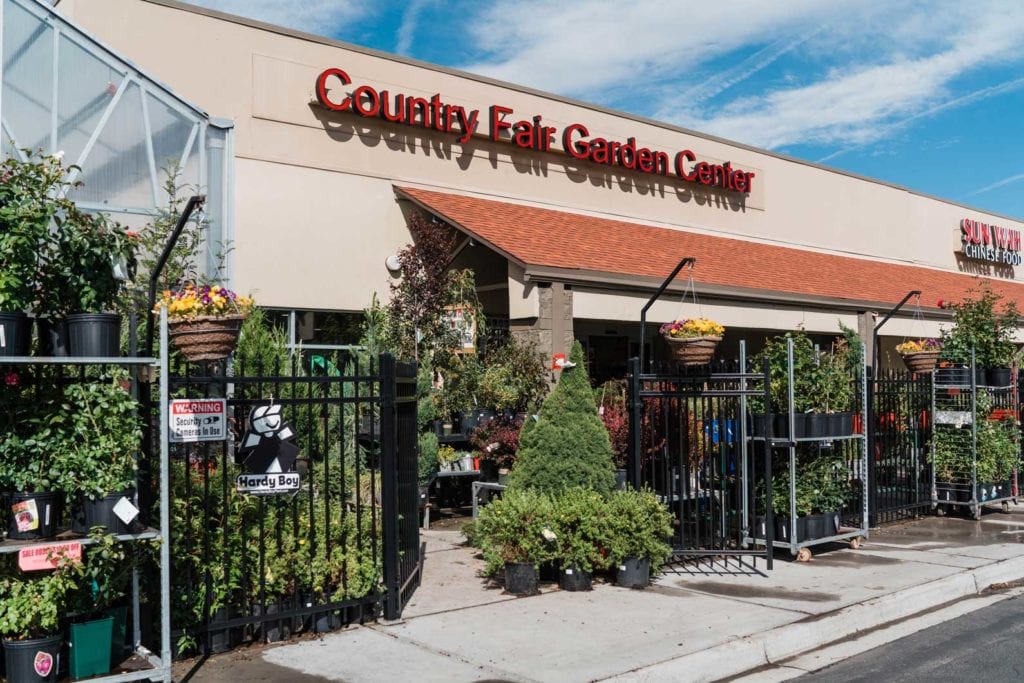 Country Fair Garden Center has been serving the Denver area with everything to make Colorado gardens and homes unique and beautiful. We are a family-owned and family-operated business that's been providing trusted customer service for decades. Our nursery and extensive garden shop offer everything you need for your urban garden!
Visit our Denver garden shop in the South Lowry Square Shopping Center, on the southwest corner of Leetsdale and Quebec at: 7150 Leetsdale Dr #415, Denver, CO 80224 or call us at (303) 757-4949.
Country Fair Garden Center does more than just sell garden supplies. Our friendly, experienced staff loves helping our neighbors create the gardens of their dreams. We know everything there is to know about gardening—which means you have access to thoughtful ideas and expert advice to make every green space something spectacular. Whether you're dealing with a space that is large or small, indoors or outdoors, our team has the know-how to help you create the yard or garden of your dreams.
Not only will you find exceptional plants and materials at a reasonable price, but our team is also committed to providing excellent customer service that you won't find at a big box store. Whether you're a beginner or experienced gardener, we can offer gardening solutions, suggest ideas to help your garden thrive, and provide friendly customer service for all your gardening needs.
We are here to help make your Denver garden and home amazing!
Our Colorado History Makes the Difference