Hours of Operation
Yes, we are open!
Starting July 5th, we are open:
Sunday 10:00am – 5:00pm
Monday – Saturday 9:00am – 5:00pm
Installing a water fountain in your garden can be eco-friendly! Water fountains can contribute to the microclimate around your property and act similarly to a humidifier.
Outdoor Water Fountains Can Add Movement & Serenity to Your Garden
The sound and flow of water in a garden landscape adds serenity, interest, and beauty! You'll find it hard to stay away from the many options and styles of outdoor fountains we have at Country Fair Garden Center that can transform your Denver area garden.
Reflect on Our Outdoor Water Fountain Selection
Calm your evening, add a sparkle of light, attract the Colorado birds or even mask neighborhood sounds with your own outdoor water fountains! Garden fountains can offer a soothing element to your Denver garden -- the appeal of a water element in a garden is easy to understand; they add a calming sense of movement to any space.
At Country Fair Garden Center, we offer a selection of outdoor fountains to complete your landscape with a unique water display. You'll find many types, shapes, makes, and sizes of outdoor fountains at our garden shop location in Denver. You can add a touch of personality to your outdoor surroundings with our water fountains made of cast stone, metal, or other materials.
At our Denver garden shop location, you can choose from different water fountain sizes and features.
Our selection ranges from smaller table top options to tiered fountains, large styles to wall water fountains.
From simple to extravagant, our fountain selections are easy to install, safe, and beautiful!
Plus, our knowledgeable and creative team can provide advice and inspiration on how outdoor fountains can work with your space and budget. You'll be amazed at how much they can add to your space!
Everything for Your Denver Garden
Visit Country Fair Garden Center for outdoor fountains and you'll soon realize we offer so much more for your garden and your home!
You'll find what you need at our Denver location garden shop for a reasonable price and you can depend on outstanding quality. Whether you need potting soil or a garden gnome, colorful perennials or flowering annuals, we have what you need and more. Plan out what you can add to your Denver area garden by visiting our links below:
Convenient Location, Affordable Prices
Country Fair Garden Center has been serving the Denver area with everything to make Colorado gardens and homes unique and beautiful. We are a family-owned and family-operated business that offers the most beautiful flowering annuals, perennials, organic herbs and vegetables, trees, shrubs, indoor plants, soil, fertilizer, pottery, gardening tools, home decor, unique gifts, local Colorado goods and so much more! Our large nursery and extensive garden shop offers everything you need for your urban garden!
Visit our Denver garden shop in the South Lowry Square Shopping Center, on the southwest corner of Leetsdale and Quebec at: 7150 Leetsdale Dr #415, Denver, CO 80224 or call us at (303) 757-4949.
The Experienced Team That Makes All the Difference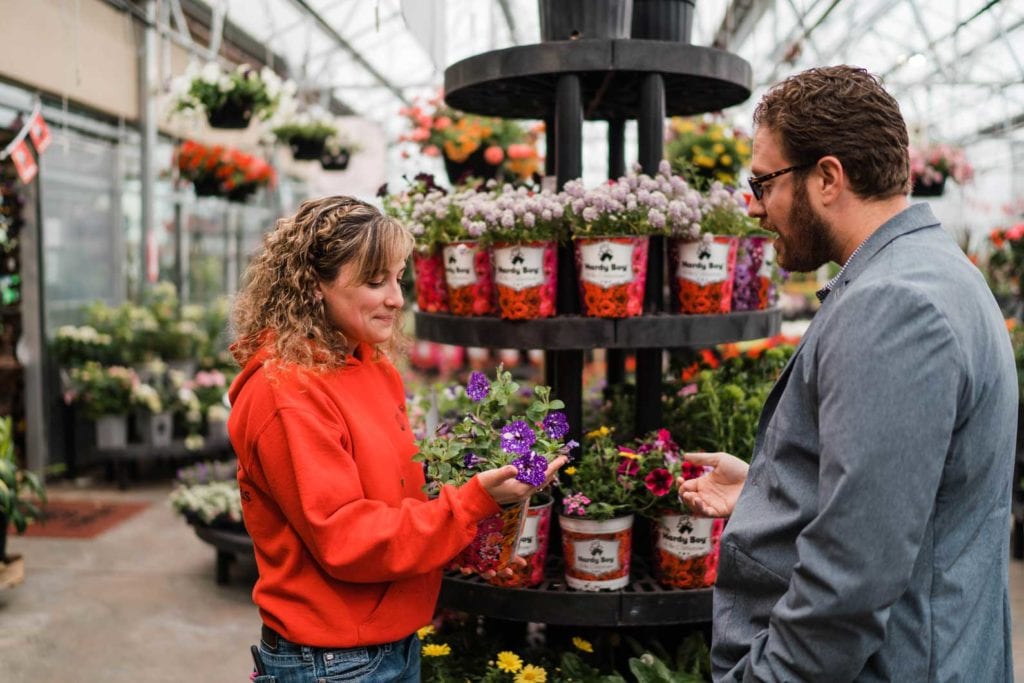 With 70 years of plant-growing experience, we know it's about more than the products we sell. It's about our friendly team members who bring hundreds of years of combined experience to our customers. With decades of serving our Denver area neighbors, we know everything there is to know about Colorado growing conditions and how to create beautiful gardens in this dynamic environment. Whether you're working with a small space or a large area, we can help you find the perfect fountains, plants, and other supplies and help you create a spectacular outdoor area.
Talk to your friendly garden experts to get some great ideas on how to make your outdoor space the yard or garden of your dreams. With thousands of plant varieties, you'll get exactly what you want at a price you can afford!
Our Colorado History Makes the Difference