First off, the staff of Country Fair Garden Center would like to Thank You for your ongoing support.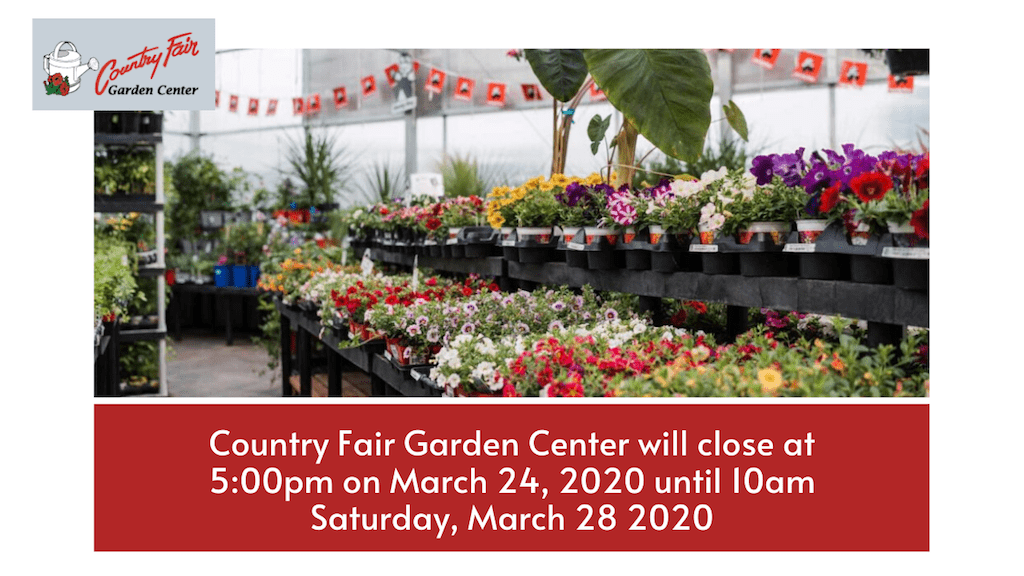 Country Fair Garden Center will close at 5:00 pm tomorrow March 24, 2020 until March 28th at 10am due to the Public Health Order issued on March 23, 2020 mandating all individuals located within the City and County of Denver; prohibiting travel outside of there residence except for essential services.
Per the Colorado Commissioner of Agriculture, Kate Greenberg, food and agriculture supply chains are clearly listed as critical (essential) businesses.
Based on this guidance, starting Saturday March 28th, 2020 we will be open to the public based on the following schedule:
Monday 10am to 2pm
Wednesday 10am to 2pm
Friday 10am to 2pm
Saturday  10am to 2pm
Additionally, we will be offering curbside pick-up and delivery.  Delivery fees do apply.
This schedule is subject to change based on further changes from government policies.
We are committed to trying to do our part to contain the spread of Covid-19 and have defined sanitization procedures for the safety of our employees and customers.
Please do not hesitate to reach out via email or phone with any questions or concerns that you may have.
We appreciate your previous and ongoing support of our family owned small business. As a community we need to pull together and help each other out. Gardening is not cancelled. We have everything you need to start working in your yards; as well as seed starting, and pansies.
Thank you,
The Staff at Country Fair Garden Center